I absolutely love large pots of meat and veggies – stew, soup, chili – whatever you want to call it, I'm down. Especially on these crazy cold days we've been having lately! I find if I make a big pot o'deliciousness on Sunday for dinner, it's so easy to choose nutrient-dense, healing foods during the week!
I often get requests for soup, stew and chili recipes by clients, which I have a hard time with because I usually wing it! So this past Sunday when I was making dinner, I decided to write down exactly what I did. And boy oh boy I am certainly glad I did because WOW this turned out amazingly! Say hello to this gem I like to call my:
Smoky Bacon Butternut Chili
One quick note on my version of the recipe: I used ground moose meat.
Now I don't normally have ground moose meat, because it's not something that is sold in the grocery store round here! Our family cottage is just south of the Wahta Mohawk Territory. In the summer we frequently visit our favourite little shop for wild pickerel. Last Saturday after skiing with the fam, my husband and I decided to pop over and see if they were open in the winter because we could really go for some pickerel! Well, weren't we in for an awesome surprise. Not only were they open and had tons of pickerel, but they also had moose meat. So of course we had to get some!! I asked the young guy manning the cash where the moose was from, to which he replied:
"North Bay…actually, I think that's my kill!"
Well folks, you can't get much closer to the circle of life can you? I strive to source out ethical, humanely raised meat – and spend quite a bit of money doing so. To find wild game, that was respectfully and traditionally hunted, is a rare find, and I am feeling very lucky to have this resource!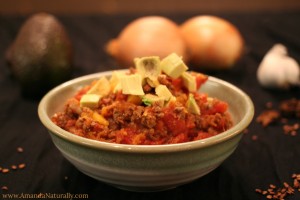 And you know what else is amazing? The flavour! I only bought 3lbs and I'm already regretting not buying more! Now I've loved every type of game meat I've tried, and moose is no exception. I don't know how to describe it other than it's like the leanest grass fed beef (I specify grass fed because it tastes significantly different than corn fed, and moose are certainly not eating corn!), with a hint of game-yness (yes that's a word!).
Since there's little to no fat in moose, I decided it would be a good idea to pair it with a fattier cut of meat as well. Enter bacon (of course)! The bacon paired beautifully with the moose – I will definitely use this combo again! I'm sensing another trip up north…
Do not despair if you don't have moose though! This recipe works perfectly well with any type of ground meat!! Normally I use a combination of ground beef and ground pork, but turkey and lamb would work great as well!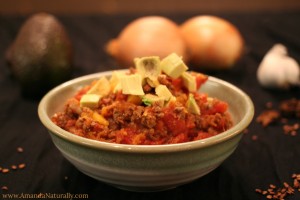 Smoky Bacon Butternut Chili
2015-01-29 18:06:55
Comforting, satisfying, nutrient dense AND good for your body!
Ingredients
½ lb bacon
2 lbs ground meat
2 cups onion, chopped
1 head of garlic, minced
5-6 cups butternut squash, diced
2 cans organic tomatoes
2-3 pieces of a dried chipotle pepper
1 tbsp chili powder
1 tbsp cumin
1 tbsp oregano
sea salt
black pepper
Instructions
Chop bacon into bite-sized pieces and cook in a large pot over medium high heat, until crispy, about 10 minutes.
Remove bacon with a slotted spoon, drain of some of the bacon grease (save it for another time!), leaving 2 tbsp in the pan.
Add onions and cook until translucent, about 5 minutes.
Add in ground meat, chili powder, cumin, oregano, sea salt and black pepper. Cook until brown throughout, stirring frequently.
Stir in garlic, cook for 1 minute.
Add in chopped butternut squash, bacon, 2 cans of tomatoes and 2-3 chipotle pieces. Simmer for 45-60 minutes.
Serve topped with avocado!
Notes
Make sure to remove the chipotle peppers before serving, or warn people they're in there! Chomping down on one can be painful!
Amanda Naturally http://www.amandanaturally.com/
So tell me! Have you ever had moose? Or other game for that matter? What's your favourite kind of meat?