I love pumpkin pie. Like love love love it. It's one of my favourite parts of Thanksgiving – that and the amazing quality time with family of course! Unfortunately inherent to a traditional pumpkin pie recipe is wheat and dairy, so it's non-negotiable for me. It's been years since I've had a bite of that sweet and spicy goodness and oh how I missed it! This year it all changed. But first, let me preface this post with an important fact:
I am NOT a baker.
I can do muffins and cookies, but if they are too complicated I'll even mess those up!
In complete defiance of my lack of baking and general desert-making skills, I decided to take on the challenge. I took a look at a pumpkin pie and realized that the filling is pretty darn simple. All I needed was pureed pumpkin, pumpkin pie spice, something to sweeten it with (maple syrup, obv) and something to help it thicken and keep its consistency. I wanted it to be egg-free (that gets complicated and involves baking or making peaks somehow) and vegan (no gelatin)…coconut oil would melt too quickly after you pulled it out of the fridge…hmmm…and then it hit me, coconut butter! My favourite snack ever! What would happen if I mixed pumpkin and coconut butter together…well it was a match made in heaven!
As for the crust, well I've never been one for pastry, so I considered omitting it altogether, but realized it would be a little challenging to serve up. So I figured a typical nut/date no-bake crust would go well. Except I decided to try a nut-free version using pumpkin seeds so it would be safe for schools, and it worked amazingly! Not to mention, toasted pumpkin seeds totally go with the vibe of the season!
The resulting no bake pumpkin pie was a HUGE hit. I tried it out on my husband immediately, and my colleagues at work the next day, and I think it's safe to say that I will absolutely be bringing this to my family Thanksgiving dinner on Sunday. (FYI I'm in Canada!) Not only is this delicious and pretty darn healthy, it is also:
No bake.
Sugar-free.
Nut-free.
Dairy-free.
Gluten-free.
Grain-free.
Paleo.
Vegan.
Yeah, you read that right! It pretty much fits every single dietary requirement I ever get asked for! Heck, I feel like you could even make it autoimmune compliant by substituting shredded coconut for the seeds in the crust and cutting back on some maple syrup. I haven't tried that though, so if you do, please let me know in the comments below!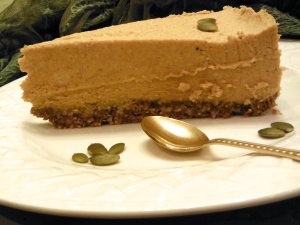 Bonus: you can make it ahead and it keeps really well in the fridge!
No Bake Pumpkin Pie
2014-10-08 17:59:48
An simple yet yummy take on the traditional pumpkin pie. Nut-free, dairy-free, gluten-free, grain-free, dairy-free and sugar-free. Vegan and paleo!
Crust
3 cups dates
1½ cups pumpkin seeds, toasted
2 tbsp coconut oil
pinch of sea salt
Filling
1¾ cups coconut butter (homemade or store bought)
3 cups pumpkin puree (homemade or canned)
½ cup pure maple syrup
½ tsp sea salt
2½ tbsp pumpkin pie spice
¼ cup coconut oil
2 tsp vanilla extract
Instructions
In a food processor, combine all the crust ingredients. Blend until it starts to stick together and to the sides. You may need to scrape the sides down once or twice with a spatula. This step takes about 2 minutes of processing.
Line a springform pan with parchment paper.
Pour the crust into the pan. Pack it down tightly using your fingers.
Rinse the food processor.
Gently warm your coconut butter either in the microwave, the oven or in a water bath.
Combine all filling ingredients in the food processor. Blend until smooth.
Pour onto the crust and smooth down with a spatula.
Chill in the fridge for a minimum of 1 hour.
Run a knife along the sides and remove from the pan.
Enjoy with some coconut milk ice cream, or homemade whipped cream!
Notes
This pie is really dense and large. I made it to feed 16 people!
You can absolutely make a smaller size.
It also works well as bars / squares.
Amanda Naturally http://www.amandanaturally.com/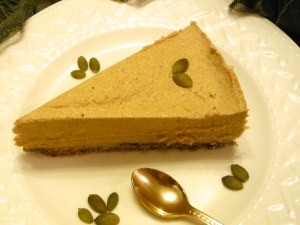 Wishing all my Canadians a Happy Thanksgiving weekend with lots of love, light and laughter. Here's to having so much to be thankful for! xo