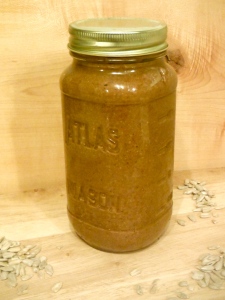 Nut and seed butters are a key pantry staple for quick grab and go snacks. While I absolutely love peanut butter, I'm careful with how much I eat because I have a sensitivity to legumes and recently I've noticed that it kind of makes my mouth tingle. That's clearly not ideal!
When I first started eating a real food diet and throughout my initial candida cleanse, almond butter was my lifeline. Any time I had a craving for something sugary I'd dunk a spoon into a jar of almond butter and enjoy it straight. Don't judge – I know you've done it, or at least thought about it!
For a while I made sure I always had a jar in my cupboard, but when I started crunching the numbers I realized I was spending way too much money on this jar of deliciousness that would barely last a week. To save money, I switched to a store-bought sunflower seed butter which was half the price. It was ok, but I didn't really love it because it always tasted a bit off. And then my life changed…
My incredibly awesome parents gave us a Blendtec for our wedding!
They had thought about a getting my soon-to-be husband a watch, and me a nice pair of earrings or a necklace…but when they really thought about the kind of people we are, and what we would actually enjoy (and use!) they went with their gut and bought us our FAVOURITE present ever. The Blendtec. A luxurious kitchen gadget that was worth every penny! We use it every day, at least once!
As much as we love the Blendtec for its incredible smoothies, it's honestly not worth it if that's the only thing you're going to use it it for. It's all of the other incredible tasks it can handle that really make this a cook's dream! So far I've used my Blendtec for:
pancake batter

muffin batter

ice cream

fruit sorbet

pesto and other sauces

grinding my own meat

homemade jello

coconut butter




AND

sunflower seed butter!
Making your own sunflower seed butter is SO much better than buying it. When seeds are roasted and ground, the oils become less stable, and over time will oxidize (go rancid). I'm sure that's why the sunflower seed butter I was buying tasted off. By roasting and grinding your own seeds, you are guaranteed the freshest butter, with a much richer flavour, and at a fraction of the cost. Not to mention, sunflower seeds are allowed in most schools because they're not nuts! Here are a few ways to use sunflower seed butter for you or your kids:
on a sliced banana topped with shredded coconut

on a sliced apple topped with pumpkin seeds

stuffed in pitted dates (my husbands favourite)

on gluten-free crackers

as a fruit and/or veggie dip
Or as I've been known to do…eat it straight out of the jar with a spoon!
If you don't have a fancy pants blender like this one, you can achieve a similar consistency with a good quality food processor, but it doesn't get quite a smooth!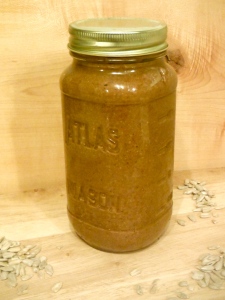 Homemade Sunflower Seed Butter
2014-09-08 06:58:50
An inexpensive, delicious and nut-free alternative to peanut and almond butter!
Ingredients
2 cups raw, hulled sunflower seeds
¼ cup + 1 tbsp avocado oil
½ tsp sea salt
Instructions
Preheat oven to 400F.
Spread sunflower seeds thinly on a baking sheet.
Roast for 7-10 minutes. Keep an eye on them so they don't burn! If necessary, stir once.
Once seeds develop a golden brown colour and you can start to smell them, remove from oven and let cool.
Pour ¼ cup avocado oil in to your Blendtec. Add sunflower seeds and sea salt.
Blend on medium low, using a spatula to scrape down the sides. Be patient, it takes a few minutes!
Add more avocado oil if you need to to achieve the desired consistency.
Notes
Store in the fridge to maintain freshness and reduce oxidation of the oils.
Amanda Naturally http://www.amandanaturally.com/
Spread sunflower seeds in a single layer on a baking sheet. It's better to use multiple sheets than to pile the seeds high on one. You risk burning the seeds on the edges and having raw seeds in the middle! If you only have 1 sheet, either make a smaller batch or stir seeds frequently.
Toast until golden brown. Don't burn!
Let seeds cool. Add avocado oil, sea salt and cooled sunflower seeds to to Blendtec or food processor. Blend on medium low, scraping down the sides.
Be patient! Eventually it will turn into a beautiful, creamy butter!
Jar and store in the fridge.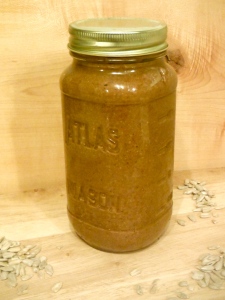 So tell me, what's your favourite nut / seed butter and your favourite way to eat it?