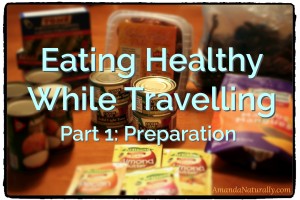 Even with my 5+ years of experience living a gluten-free, dairy-free lifestyle (I've since added some foods to that list, but that's what I started with), I occasionally still get what I call "dairy-bombed" or "gluten-bombed". I really do everything in my power to avoid dairy (my worst allergy) because a tiny exposure results in at least 24 hours of extreme pain, followed by 1-2 weeks of slow gut recovery. And since gluten actively causes leaky gut, I avoid it pretty strictly as well, although I don't have to be as extreme as some people who can't share a surface though, so I count myself lucky!
The riskiest endeavours are parties, restaurants (especially with a language barrier) and travelling, with travelling taking the cake for most high-risk activity!
First there's the airport. A real food deadzone, in which you are guaranteed to spend a minimum of 2 hours in before your flight. Surrounded by crap on crap on crap. Very little options, other than a salad or a piece of fruit if you're lucky.
Then comes the actual flight itself. I don't even think the stuff they serve you counts as food. As a kid I didn't even like it – but back then I usually filled up on Smartfood and Mars bars! Depending on the length of the flight, you can be served multiple "meals" of garbage, moulded into food-like shapes.
Upon arrival to your destination, any number of hours later, you might be faced with a language barrier as well.
Yowza. Talk about risky!
This past weekend my whole family went to Quebec City to celebrate my mom's 60th birthday, and while it was only a 90 minute flight, the travel portion of the day was a good 5-6 hours. So I decided to share exactly what I did to keep my body healthy on this trip! (spoiler alert: I wasn't perfect, I did have something go wrong, but I was mostly successful. Heck I'm only human!).
Ok so first and foremost. You have to plan ahead. This is seriously a case of:
If you fail to plan, you plan to fail.
If you arrive at the airport hungry, because you haven't eaten yet that day, you're going to end up filling your body with at best, nutrient-poor, inflammatory foods that hopefully don't contain one of your food triggers. At worst? A full on dairy-bombing (my worst offender).
Rule Number 1: Fuel Up Before You Leave Home
I cannot stress this enough. Have a HUGE meal before you leave your home. Make sure it's high fat and at least a moderate amount of protein. This will sustain you for hours! We had to leave our house at 6am on Friday, so I set the alarm for 5am, to make sure we would have enough time to eat. A huge breakfast of bacon, bacon-fried eggs and plantain buns, plus lots of coconut milk in my coffee made sure I wasn't hungry again for at least 6 hours.
Rule Number 2: Pack Snacks
If I was going on a longer flight, I would have packed more meal-like food in a lunch bag, but since we were just hopping over to the next province, I packed non-perishable snacks such as a few packs of Artisana's individually portioned nut butters and a bag of my homemade Beef Jerky. Additionally, I threw in an apple and some chopped veggies, as well as a can of sardines if I needed it (although this was a last resort, since I didn't want to be that person on the flight!).
Rule Number 3: Over Pack Food
It's winter in Canada right now. There is a very likely chance that your flight may be delayed, or you may end up in another city due to weather conditions, which leaves you stranded and desperate for food. We ate about half of the food in my bag, which I considered a win! I would have been able to sustain us for another 5 or so hours on what I had left!
Rule Number 4: Bring an Empty Water Bottle
You know how the flight attendants give you that teeny glass of water that one time on the flight? Advocate for yourself! Bring an empty bottle and ask them to FILL IT UP! I do it all the time! Staying hydrated is key for reducing your risk of airplane-born illnesses. Why? Flying is incredibly dehydrating. The humidity in the airplane cabin is significantly lower than our ideal range, which causes moisture to seep out of our bodies in a futile effort to establish an equilibrium between the two environments. When our mucous membranes dry out, we lose one of our primary barriers against air-borne pathogens. Add a sick traveller who's hacking up a storm a few seats behind you and you are seriously at risk!
Rule Number 5: Pack Extra Food In Your Checked Luggage
In my checked luggage I packed a whole lot of other food as well. Extra cans of sardines and tuna (in olive oil of course! Watch out for those nasty other oils like soybean or canola.), more nut butter packets, dates, dried mango, cans of coconut milk and a can opener, to be exact! We rented a condo with a kitchen and were fairly close to a grocery store, so we made a trip when we got settled in, to stock up on real food (more on that in my next post). If I didn't have this option, I would also pack the following:
Larabars
Coconut Butter
Raw nuts & seeds
Protein Powder
A personal size blender, or shaker cup
Coconut oil and/or olive oil
Sea salt
Inka Plantain Chips (found only at Dollarama here in Ontario!)
Kale Chips
A small cutting board and paring knife (obviously in your checked luggage)
Moral of the story is don't let yourself become a victim of circumstance. Plan ahead and you'll be fine!
Okay so it was my intention to sum up everything into one post, but at this rate I'll be up all night writing this! So this has now become a Preparing for Travel post. Check out my second post: 7 Tips for Eating Healthy on Vacation, where I discuss what to do when you arrive at your destination!